Hoodoo Brown BBQ
Barbecue School Classes on Sale Now
Hoodoo Brown was the Baddest Cowboy of them all.
A bank robber, cattle herder, Justice of the Peace, moonshiner and cook, Hoodoo Brown epitomized life in the Wild West. We celebrate Hoodoo Brown's spirit and authenticity by cooking the best Texas Outlaw barbecue on the planet...or at least right here in Ridgefield.
Owner Cody Sperry was inspired several years ago on a "guys trip" to Austin, Texas. There they traveled to over a dozen barbecue joints, with owner's generously sharing their stories, secrets and passion for creating true Texas barbecue. He returned to Ridgefield with a new outlook and desire to replicate what he experienced in Texas.
He started his apprenticeship on a Big Green Egg smoker and eventually opened a barbecue catering business. Through the encouragement of his customers, friends and family, he decided to open Hoodoo Brown BBQ.
Which brings us to today, Hoodoo Brown Barbeque opened May 22nd, 2015 and we are happy to bring our style of outlaw barbecue to the Northeast. Hoo's Hungry?
Phone
(203) 438-6033
Location
967 Ethan Allen Highway
Ridgefield, CT 06877
Hours
T-Th 4:00pm-12am
F-Sa 11:30am-1am
Su 11:30am-12am
Food served until 10pm.
Reservations
Reservations are only accepted for parties of 10 or more in our community room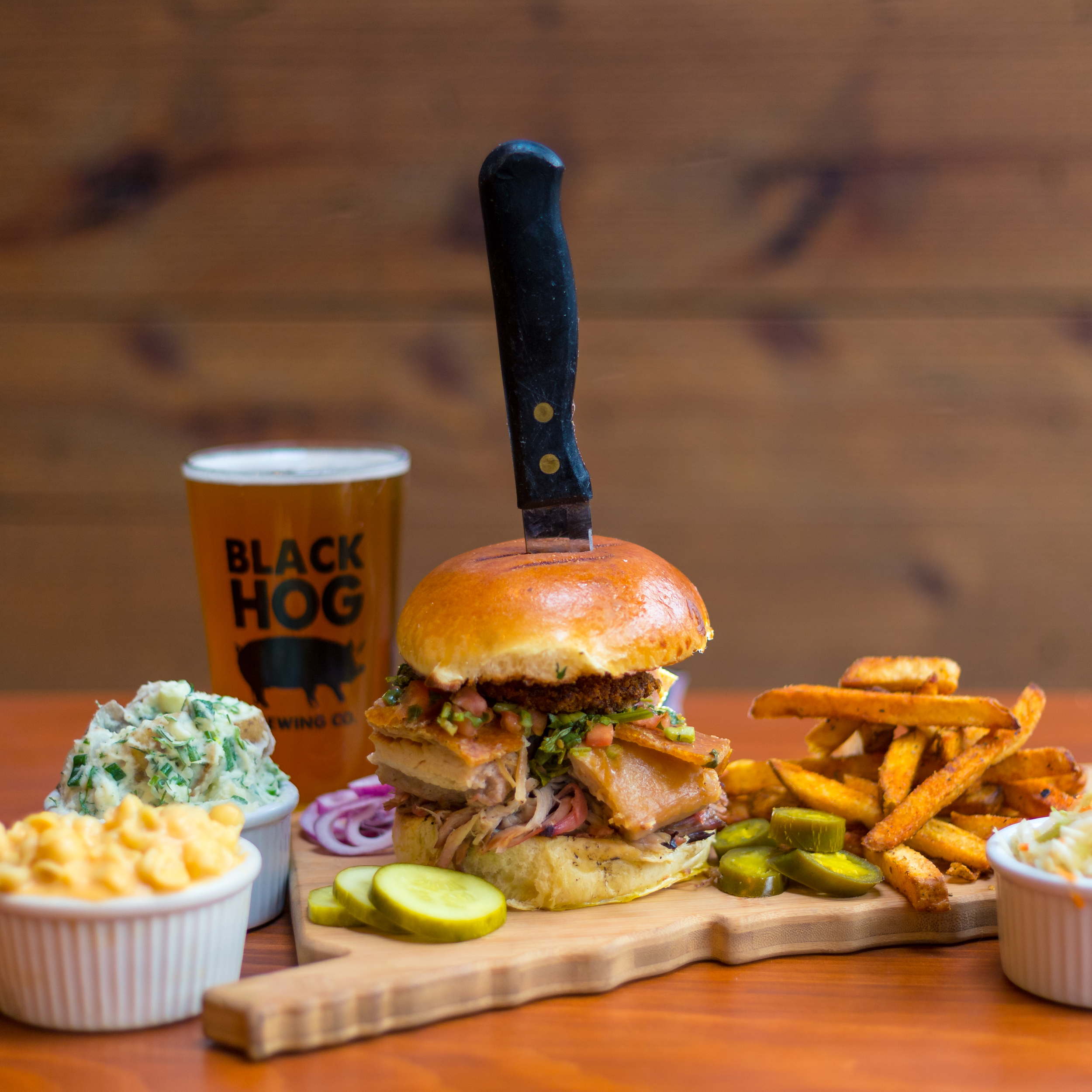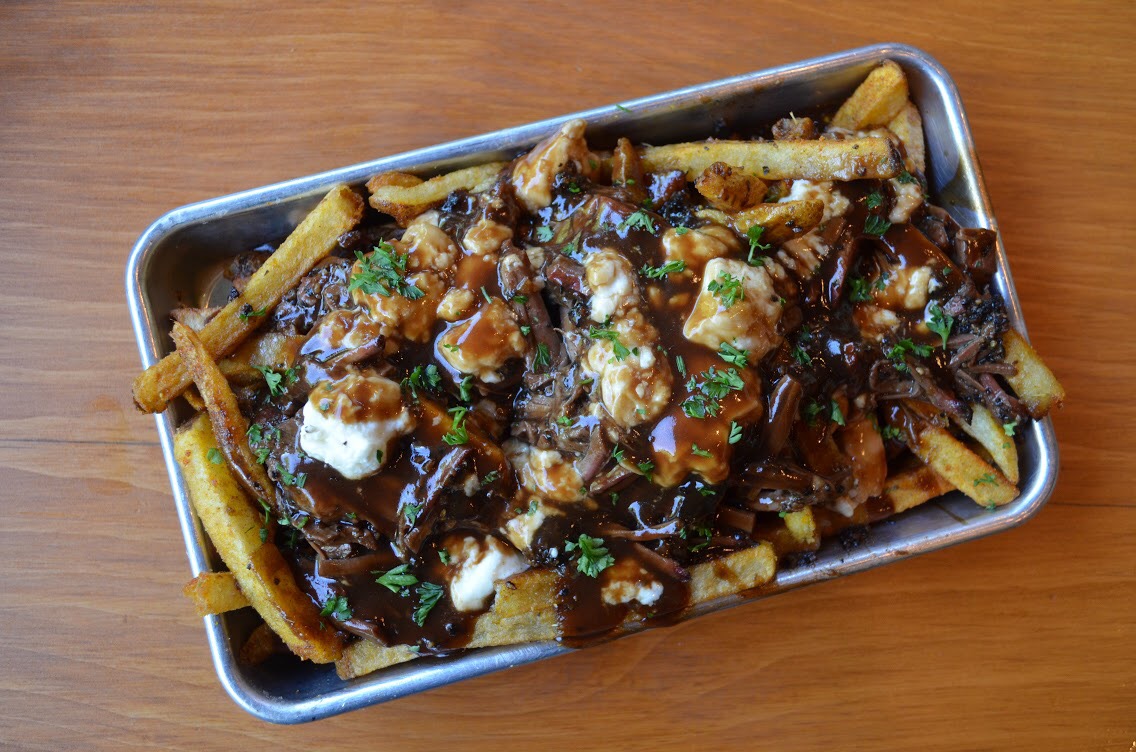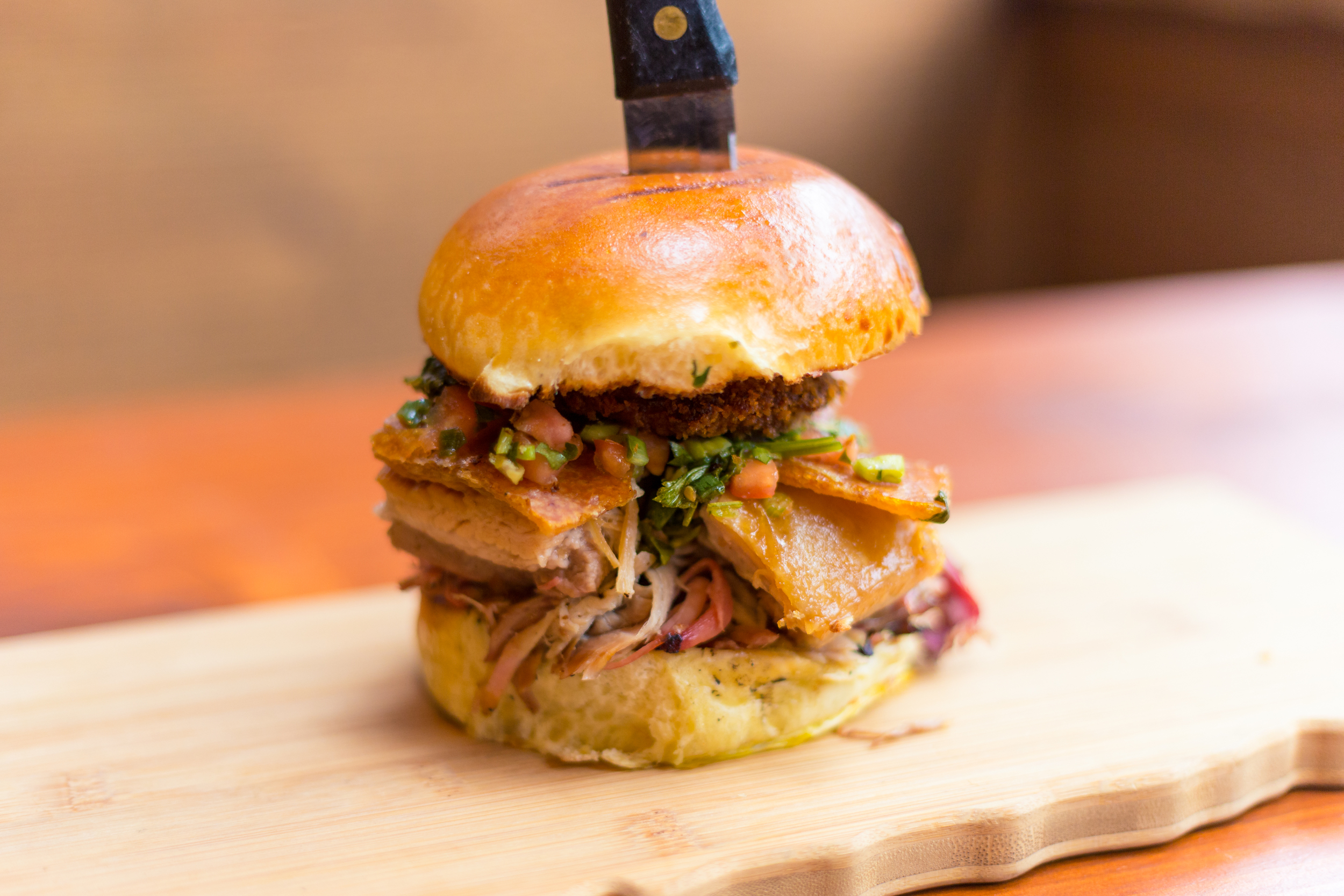 We Now Offer Pig Roasts!
We bring it all, the pig, the smoker one of our pit masters, and we cook the whole hog for your friends, families, coworkers, neighbors whomever! We cook your whole hog on our brand new BQ Grill, over fresh hot coals. This is something you can't get anywhere else! Minimum 50 People: We Bring the Pig, Sauce, Coleslaw, Buns and Corn Bread.
Plan a Perfect Party
To boil it down to its simplest form for parties over 25 people we charge $30-$36 a person based on the menu.
Parties normally go based on a model of: 
2-3 Meats
Brisket
Pulled Pork 
Chicken 
Turkey
Pork Ribs
Sausage
2-3 Sides
Corn on the Cob
Potato Salad
Apple Vinegar Slaw
Pit Beans
Mac and Cheese
Collard Greens
Cornbread
Collard Greens
For however many people. We can do everything. Or focus it. That's up to you. We can make the party work to your needs. 
Smaller Party?
Looking for Hoodoo to simply supplement your party? Here are a couple flat rate prices on some of our favorite items.
Wings (BBQ, Buffalo, Citrus Bourbon Teriyaki, Garlic Parmesan or Rajun Cajun)

24 for $28 - 50 for $50 - 100 for $95

Brisket

Half Tray 5 lbs (Feeds 10+ People) $110

Full Tray 10 lbs (Feeds 20+ People) $225

Pulled Pork

Half Tray 6 lbs(Feeds 10+ People) $120

Full Tray 12 lbs (Feeds 20+ People) $225

All Side Dishes (Corn on the Cob, Collard Greens, Pit Beans, Mac and Cheese, Potato Salad, and Apple Vinegar Slaw)

Half Tray (Serves 15+ People) $75

Full Tray (Serves 25+ People) $130

Cornbread
Have us Cater Your Next Party? Email us with your Name, phone number and an outline of: number of guests, date of event and menu requests to Catering@hoodoobrownbbq.com. We will make the perfect party package for you and your friends, family or coworkers. Call the restaurant at 2034386033 if you have any Questions, Thanks. Need to Connect faster for a catering concern call our Manager Chris directly at 203-233-8527.
The Week of March 25th-March 31st…
Hoodoo is headed to the Bayou! We will be closing the week of March 25th-31st to join our friends Ronnie, Phil and all of Blue Oak BBQ at Hogs For The Cause. This barbecue festival is a two-day event full of music, local beer, and fundraising hosted in New Orleans, Louisiana.
Hogs for the Cause works with both local and national children's hospitals, including Children's Hospital of New Orleans, Ochsner Hospital for Children, Duke Children's Hospital, Medical University of South Carolina (MUSC) Children's Hospital, Children's Healthcare of Atlanta at Scottish Rite, and Children's Hospital of San Antonio, to offer monetary relief to families with children who have brain cancer.
Hogs for the Cause raised over $1.4 Million dollars last year to support Families, Fighting Pediatric Brain Cancer. We hope to join the effort with some fun fundraising and sponsorship opportunities of our own. So stay tuned to Hoodoo Brown on all our platforms for events and opportunities.

Hogs for the Cause is a 501(c)(3) organization.
Check out our friends at Blue Oak BBQ.
Plus for any other questions about the event check there website at Hogs For The Cause.
Deluxe Donation and Sponsorship Packages
$10,000+ : Boss Hog Package
(1 Available)
Exclusive Title Sponsor

Mentioned in every social media post about event, before, during and after.

Logo and Title sponsor on all signage and written materials

Two Tickets to the Greenwich Wine and Food Festival ($450 Retail value)

Hoodoo Brown Swag Package (Shirts, Hats, Stickers Etc.)

On-site Pig Roast for up to 100 people (Whole Hog, Slaw, Buns Cornbread all labor included)
$5000: Barbecue Apprentice
(3 Available)
Name Listed in all our marketing materials, including post on Instagram.
Spend a full Sunday in the Pits with Pitmaster Cody Sperry, Learn everything there is to be taught from a day in the pits.

Full Brisket, Beef Rib Rack and Pork Rib Rack to bring home after days work.

Hoodoo Brown Swag Package (Shirts, Hats, Stickers Etc.)
$3000 : Corporate Lunch
(2 Available)
Name Listed in all our marketing materials
Hoodoo Brown Caters a Lunch for up to 50 People

Buffet of Two Meats, Three Sides and Cornbread

Delivered, Set Up and Served by our Catering team

Hoodoo Brown Swag Package (Shirts, Hats, Stickers, Etc.)
$1500 : Family Dinner
(5 Available)
Dinner on us, for you and family or friends, enjoy a night at Hoodoo to support the cause.

Enjoy a Dinner for up to 12 at Hoodoo Brown BBQ in our back room.

Special menu of a Table Breaker, Two Apps, 4 Large Sides, 3 Desserts and Soft drinks

Cash Bar and Tip not included.
$500: Mama Hoodoo Package
(10 Available)
Full Banana Cream Pie

Plate of Carmelita Brownies

Mama Hoodoo T-Shirt